The Most Recognized Flexible Graphite Gasket Material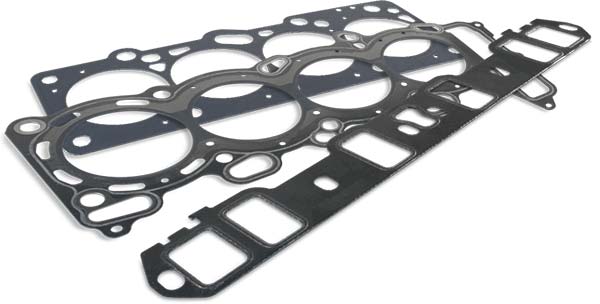 GraFoil® material was first introduced in 1967 as the original flexible graphite technology. This graphite foil was quickly utilized as the first fluid sealing material made exclusively from pure, natural graphite flake. Its resistance to heat, fire, corrosion, and aggressive chemicals makes it the most universally applicable sealing solution in the market today. GraFoil flexible graphite has successfully been used in a wide array of applications across many industries including:
Oil and gas
Chemical plants
Refining and petrochemical industries
Automotive gasketing
Nuclear and industrial gasketing
Infrastructure
Power generation
Pharmaceuticals
Battery systems
Why GraFoil® Flexible Graphite?
GraFoil flexible graphite is a distinctive material with all the essential characteristics of natural graphite: superior thermal stability, thermal conductivity, natural lubricity, and chemical resistance. GraFoil material provides a tight seal, even after repeated exposure to the harshest environments. The material is a preferred high temperature gasket material because it:
Outperforms conventional elastomeric bonded gasket materials
Is resistant to heat, has no water crystallization and is naturally lubricious
Is chemically inert and is an excellent conductor of heat and electricity
Acts as an effective sealing material
Offers an ideal replacement for asbestos-based gaskets
Is superior to other non-asbestos type sheet gaskets
GraFoil® Product Portfolio
Multiple product variations are offered to meet requirements of these key industries:
Nuclear products
Industrial products
Automotive products
Specific product variations include:
Rolls with a thickness range of 0.003″ to 0.060″ (0.08 to 1.5 mm), a typical width up to 39.4″ (1 m), and length ranging from 100 ft (30.48 m) to as long as 3,000 ft (914.4m), depending on customer weight and outside diameter limitations
A typical density of 70 lb/ft3 (1.12 g/cc) with capability to customize to at least 20 lb/ft3 higher and lower
Sheets with a typical thickness range of 0.032" to 0.125", and typical length and width of 39.4" (1 m)
Purity ranging from 95% C to as high as 99.999% C
Service temperature of 840°F (450°C) despite extended periods of exposure to air, with an option to extend the service temperature to 975°F (525°C) with the addition of an oxidation inhibitor
Service temperature as high as 5400°F (3000°C) in an inert environment
Features & Benefits
Flexible, compactible, conformable and resilient
Easily molded, cut, and formed for a wide variety of applications Provides better sealing performance over a wider range of chemical and temperature conditions
More thermally stable and chemically inert with considerably less creep relaxation than elastomeric bonded gasket materials.
Superior sealability under low flange loads
High surface conformity
Unlimited shelf life
No sharp edges
NeoGraf has a long history in supporting the wide range of high temperature gasketing needs, leveraging an extensive product portfolio and a world-wide distribution network.
Media
Neo Graf Solutions
Introduced to the marketplace in 1967 as the first original flexible graphite technology, GRAFOIL® products have long been used in a wide array of applications across many industries.  A superior gasketing material solution for [...]Learn More
Patents
GraFoil® flexible graphite sealing solutions, materials, and processes are covered by one or more of the following US patents: 5,830,809; 5,981,072; 6,669,919. Other US and foreign patents granted or pending.