NeoGraf participates in and presents at several trade shows, conferences and webinars worldwide. Sharing our graphite material science expertise is an important step in building and maintaining relationships with our customers. With a broad range of innovative products used in different markets, we are continuously educating our customers and the industry about our graphite solutions. We hope to see you soon at one of our upcoming events.
At NeoGraf, we strive for an atmosphere where new ideas are embraced and encouraged. To achieve this, the global NeoGraf team fosters a company-wide culture that is ethical, respectful and supportive.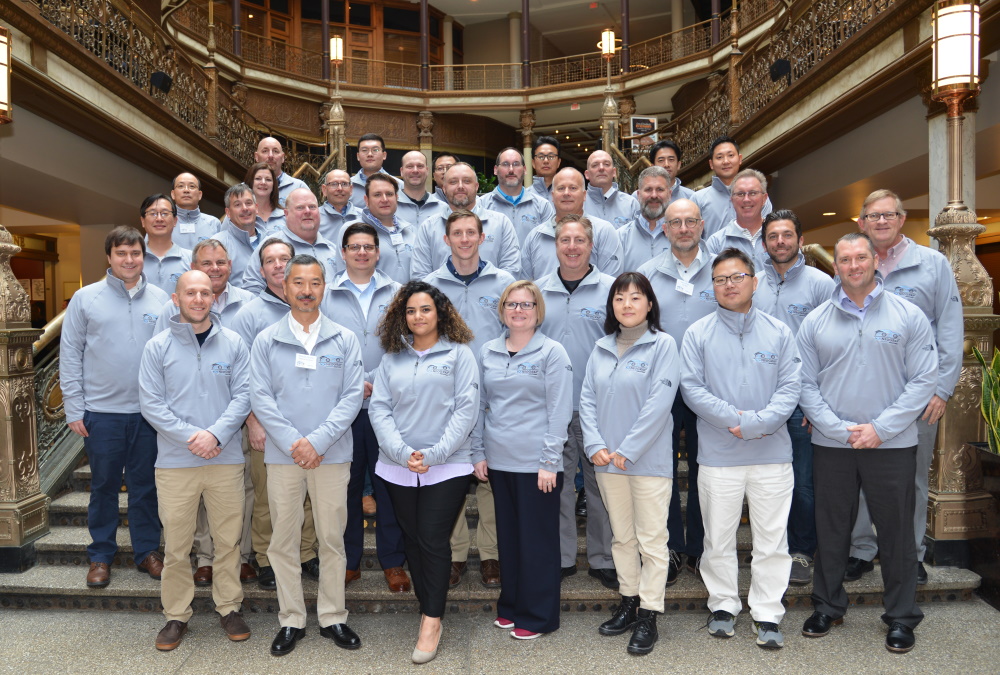 We have identified five core competencies that are essential to achieving our measures of success. Every team member is evaluated on these competencies throughout the performance management process:
Customer Focus: We genuinely want to see our customers succeed as our success is directly tied to theirs.
Attention to Detail: Accurately complete job tasks with minimal errors.
Creativity: Generate new ideas and identify unique solutions. Challenge the norm while always striving for continuous improvement.
Peer Relationships: Through teamwork and collaboration we are able to identify new solutions and continuously improve. We know that diversity makes for an environment that produces creative thinking and customer solutions. Our culture embraces individuals from a multitude of countries, backgrounds and professions. We strive to create an atmosphere in which each team member can grow and develop to his or her fullest potential.
Perseverance: Pursue everything with energy, drive and desire to complete tasks on time. Willing to overcome challenges, resistance and setbacks when they arise and put in extra effort to deliver results.
NeoGraf offers great opportunities in many disciplines around the world. We're the leading company in our field and we're looking for others to join us as we continue our commitment to being better and faster than our competition.
We Are an Equal Opportunity / Affirmative Action Employer Minority / Female / Veteran / Disabled
If you are a qualified individual with a disability or a disabled veteran, you have the right to request a reasonable accommodation if you are unable or limited in your ability to use or access NeoGraf's career website as a result of your disability. If you need assistance with the online process as a result of your disability, please call 216-529-3780 or mail your request to:
NeoGraf Solutions, LLC
Human Resources
11709 Madison Avenue
Lakewood, Ohio 44107
Benefits and Compensation
NeoGraf offers a competitive benefits package that is anchored by a compensation philosophy focused on rewarding our team members for performance.
Compensation – Our compensation is achieved through a competitive base salary, an incentive-based bonus that is calculated on your group's achievements and your individual performance, and special recognition awards for personal performance above and beyond expectations.
Health Benefits – We offer medical, prescription, dental and vision benefits.
Other Benefits
Group life insurance
Short-term and long-term disability
Paid vacation and holidays
Tuition reimbursement
Employee assistance program
Personal Development
We realize that continuous improvement cannot happen without continuous learning. NeoGraf has a series of systemic tools to assist in this learning.
Position Profiles – Each position will have a detailed profile before the hiring process begins. This includes the recognition of the competencies that are viewed as imperative for the success of the individuals in these roles.
Behavioral Based Interview – Our interview process is experientially based and is built upon the competencies required for the position.
Performance Management – The Performance Management process continues the focus on competencies by measuring performance in the corporate core competencies and competencies identified for each position.
Learning and Development Plan – NeoGraf is committed to personal learning and development. This tool provides for discussion of future career goals and development in areas identified through the Performance Management process.
Interview Process
A friendly welcome by a company representative.
An aptitude test for some positions.
A receptive audience if you are asked to make a presentation.
Interviews that are conducted by two to three interviewers who are familiar with various requirements of the position. The interview will be behaviorally based and will consist of a discussion of past actions taken through the performance of your previous duties. All questions will be based upon the competencies that have been identified as critical for success in the role being interviewed for; including the five core competencies of Customer Focus, Drive for Results, Ethics and Values, Health/Safety/Environment, and Peer Relationships.
An opportunity to ask any questions that you may have of the interviewers, you will be provided with company information and you will be told what the next steps in the process are.
Completion of a background and reference check.
The Value of Diversity
Our culture embraces individuals from a multitude of countries, backgrounds, academics and professions. We place great value on the team that has been formed in an environment that values individual contribution for the success of all.

Transparency in Coverage Notice
This link leads to the machine-readable files that are made available in response to the federal Transparency in Coverage Rule and includes negotiated service rates and out-of-network allowed amounts between health plans and healthcare providers. The machine readable files are formatted to allow researchers, regulators, and application developers to more easily access and analyze data.