When your thermal requirements get complex, your thermal solution is simple.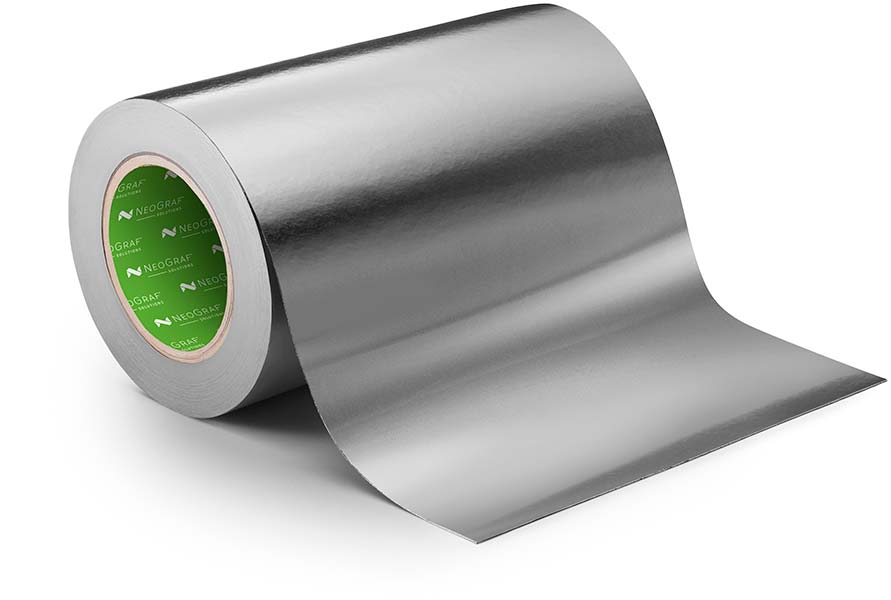 eGraf® NeoNxGen™ thermal management solution is a single-layer flexible graphite that provides the most desired features of a multi-layer synthetic graphite. It is a high-performance, cost-effective graphite heat spreader that achieves higher thermal conductance than synthetic graphite, natural graphite, and metallic solutions. The product has superior repeated flexibility for demanding applications such as foldable screens in notebooks, tablets, and mobile phones.
NeoNxGen thermal management solutions are a family of products that have been designed to eliminate the cost, complexity, and reliability concerns of multi-layered synthetic graphite solutions. NeoNxGen is a continuous roll of flexible graphite that can be easily laminated with plastics and adhesive tapes. The graphite can also be die-cut to a desired shape for easy "peel and stick" application.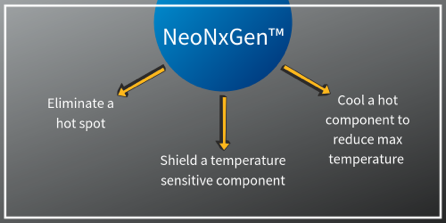 Typically, NeoNxGen flexible graphite is used in the following applications:
Cooling a hot component
Spreading heat to eliminate a hot spot
Shielding a temperature-sensitive component from a hot component
Reducing a temperature gradient across the surface of a device
NeoNxGen flexible graphite sheets are designed to serve markets with demanding thermal challenges such as high-end consumer electronics (notebook computers, mobile phones, and tablets), transportation, energy storage, medical, and aerospace.
Why NeoNxGen Thermal Management Solutions?
As devices have become more powerful, one layer of synthetic graphite often does not spread enough heat to meet thermal specifications. Yet, there may not be enough thickness available in the device for natural graphite to be used.
The standard approach to this problem has been to laminate two or more synthetic graphite layers together using a 5µm adhesive film. This approach will work thermally but often results in yield loss and wasted material due to the nature of the lamination process.
Challenges presented by the multi-layer approach to heat spreading require a new, single-layer solution that is thicker than traditional synthetic graphite products yet offers the same high thermal conductivity. NeoGraf's NeoNxGen is such a solution.

NeoNxGen Product Portfolio
High-performance N-series and economical P-series are standard products
Thermal conductivities up to 1,100W/m·K
The current thickness range is 80 µm to 270 µm. Customization (thickness, performance) may be available upon request
Additional grades are in development
Features & Benefits
Single-layer solution: eliminates costs of lamination step(s), adhesive tapes, and multiple quality inspections
High performance and lightweight: 30 percent lighter and 4-5 times higher thermal conductivity than Aluminum
Current thicknesses between 80µm and 270µm, with thermal conductivities between 900 and 1100W/m·K
No material losses due to roll splices and misalignment
No quality concerns due to bubbles, wrinkles, delamination, and contamination between layers
Easier handling and forming to complex shapes while maintaining flexibility
Anisotropy: Low Z-directional thermal conductivity enables exceptionally large thermal activation areas
Unaffected by extremes in temperatures
NeoGraf's global team of application engineers specialize in developing and manufacturing high-quality flexible natural and synthetic graphite material solutions for today's advanced devices. Regardless of your product design phase (concept, prototyping, or mass production), we offer technical answers and thermal modeling support to some of your most challenging problems with a fast response time.
Media
Neo Graf Solutions
Overview Today's major consumer electronics brands are expected to continue to develop faster, cheaper, and more powerful devices that are thinner and lighter than ever. Boosting computing performance in smaller packages, however, presents a [...]Learn More
Neo Graf Solutions
Overview eGRAF® NeoNxGen™ Thermal Management Solutions are designed to address thermal challenges that require high thermal conductivity and a thick form factor. Traditionally, synthetic graphite offers good thermal conductivity; however, this material is thickness [...]Learn More
Patents
eGraf® thermal management products, solutions and processes have earned the following proprietary rights
Markets
Safety Data Sheets
Sell Sheets
Technical Data Sheets